About Us
Rice & Spice is a Indian takeaway in Feltham. Why don't you try our Bhuna or Tikka Masala?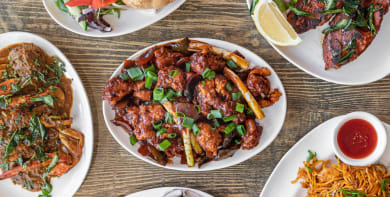 Reviews
135 reviews
Michelle
"Delicious. Good delivery guy too."
18/05/2020
Ray
"The usual top service and food I've come to rely on."
16/05/2020
Bronwyn
"Great food as usual Prices gone up a little so probably won't order as often."
21/04/2020
david
"Early delivery food nice and hot and tasted great would use again"
16/04/2020
Menu
Aloo Chaat Puree (Potato)
Spicy potato mixed with chaat spices
£3.95
Chicken Sizzler
Touch of delicate spice with fried onion, green pepper & coriander
£5.45
Chicken Chaat Puree
Chicken mixed with chaat spice
£4.45
Garlic King Prawn
King prawn sauteed in garlic butter served with fresh lemon
£6.95
Lamb Sizzler
Touch of delicate spice with fried onion, green pepper & coriander
£5.95
Shami Kebab
Very finely ground mince meat mixed with different spices & fried in hamburger shapes
£3.95
Tandoori Mixed Starter
Tender pieces of chicken tikka, lamb tikka & onion bhaji served together
£5.75
Tandoori Mixed Grill
Pieces of tandoori chicken, lamb tikka, seekh kebab, king size prawn served together with naan & green salad
£11.95
Tandoori Fish
Fish marinated in tandoori spices & grilled in charcoal grill oven, served with fried onions
£9.95
Tandoori Seekh Kebab
Minced lamb on skewers
£7.25
Set Meal For 1 Person (Balti) Chicken Tikka Masala
1 Poppadom
1 Onion bhaji
1 Chicken OR lamb tikka masala
1 Bombay aloo
1 Pilau rice
1 Mint sauce
£16.99
Set Meal For 1 Person (Balti) Lamb Tikka Masala
1 Poppadom
1 Onion bhaji
1 Chicken OR lamb tikka masala
1 Bombay aloo
1 Pilau rice
1 Mint sauce
£17.99
Set Meal For 1 Person (Normal) Chicken Tikka Masala
1 Poppadom
1 Onion bhaji
1 Chicken OR lamb tikka masala
1 Bombay aloo
1 Pilau rice
1 Mint sauce
£15.99
Set Meal For 1 Person (Normal) Lamb Tikka Masala
1 Poppadom
1 Onion bhaji
1 Chicken OR lamb tikka masala
1 Bombay aloo
1 Pilau rice
1 Mint sauce
£16.99
Set Meal For 2 Persons (Balti) Chicken
1 Onion bhaji
2 Poppadoms
1 Chicken OR lamb bhuna
1 Chicken tikka OR lamb tikka masala
1 Bombay potato
1 Vegetable curry
2 Pilau rice
1 Naan
1 Mint sauce
£28.95
Set Meal For 2 Persons (Balti) Lamb
1 Onion bhaji
2 Poppadoms
1 Chicken OR lamb bhuna
1 Chicken tikka OR lamb tikka masala
1 Bombay potato
1 Vegetable curry
2 Pilau rice
1 Naan
1 Mint sauce
£30.99
Set Meal For 2 Persons (Normal) Chicken
1 Onion bhaji
2 Poppadoms
1 Chicken OR lamb bhuna
1 Chicken tikka OR lamb tikka masala
1 Bombay potato
1 Vegetable curry
2 Pilau rice
1 Naan
1 Mint sauce
£26.95
Set Meal For 2 Persons (Normal) Lamb
1 Onion bhaji
2 Poppadoms
1 Chicken OR lamb bhuna
1 Chicken tikka OR lamb tikka masala
1 Bombay potato
1 Vegetable curry
2 Pilau rice
1 Naan
1 Mint sauce
£28.95
Set Meal For 4 Persons (Balti) Chicken
4 Poppadoms
2 Chicken tikka masala OR lamb tikka masala
2 Chicken OR lamb rogan josh
2 Bombay aloo
1 Vegetable curry
2 Onion bhaji
4 Pilau rice
2 Naan & mint sauce
£51.95
Set Meal For 4 Persons (Balti) Lamb
4 Poppadoms
2 Chicken tikka masala OR lamb tikka masala
2 Chicken OR lamb rogan josh
2 Bombay aloo
1 Vegetable curry
2 Onion bhaji
4 Pilau rice
2 Naan & mint sauce
£55.95
Set Meal For 4 Persons (Normal) Chicken
4 Poppadoms
2 Chicken tikka masala OR lamb tikka masala
2 Chicken OR lamb rogan josh
2 Bombay aloo
1 Vegetable curry
2 Onion bhaji
4 Pilau rice
2 Naan & mint sauce
£49.95
Set Meal For 4 Persons (Normal) Lamb
4 Poppadoms
2 Chicken tikka masala OR lamb tikka masala
2 Chicken OR lamb rogan josh
2 Bombay aloo
1 Vegetable curry
2 Onion bhaji
4 Pilau rice
2 Naan & mint sauce
£52.95
Vegetable Set Meal For 1 Person Balti
1 Vegetable samosa
1 Vegetable jalfrezi
Saag aloo
1 Pilau rice
£12.95
Vegetable Set Meal For 1 Person Normal
1 Vegetable samosa
1 Vegetable jalfrezi
Saag aloo
1 Pilau rice
£11.95
Vegetable Dansak
Sweet, sour & hot with lentils
Hot
£6.45
Vegetable Jalfrezi
Cooked in onions, tomatoes, green peppers & green chilli
£6.45
Vegetable Korma
Very mild
£6.45
Vegetable Masala
Fresh mixed vegetables cooked with mild masala sauce
Mild
£6.75
Mixed Biryani
Basmati rice cooked with chicken, meat & prawns
£10.95
Tandoori King Prawn Biryani
£12.95
Special Fried Noodle
Cooked with fried eggs, peas, coriander & onion
£6.95
Garlic Noodle
Cooked with garlic
£6.95
Mixed Raita
Yoghurt, cucumber & onion
£2.45
Poppadom Plain (2 Pieces)
£1.50
Poppadom Spicy (2 Pieces)
£1.50
Lamb Tikka Roll
Lamb tikka rolled in naan bread with fresh salad & mint sauce
£6.25
Chicken Tikka Roll
Chicken tikka rolled in naan bread with fresh salad & mint sauce
£5.75
Chapati
Thin bread, baked
£1.45
Keema Naan
Bread with mince lamb
£2.95
Kulcha Naan
With mixed vegetables
£2.95
Puree
Deep fried plain small chapati
£1.45
Paratha
Fried bread made of wheat flour
£2.25
Peshwari Naan
With almonds & sultana
£2.95
Tikka Naan
With mince chicken tikka
£2.95
Special Fried Rice
With egg & peas
£3.75
Noabi Rice
With mixed vegetables & mince meat
£3.95
Mushroom Rice
With mushroom
£3.75
Keema Rice
With minced lamb
£3.95
Garlic Rice
Rice cooked with garlic
£3.75
Fruit Rice
With mixed fruit
£3.75
Butter Chicken Chicken
Mild
£8.45
Garlic Chilli Chicken
Cooked with green chilli in masala sauce
£8.45
Garlic Chilli Lamb
Cooked with green chilli in masala sauce
£9.45
Naga Chicken
Chicken or lamb cooked with hot chilli
Very hot
£8.45
Naga Lamb
Chicken or lamb cooked with hot chilli
Very hot
£9.45
Palak Tikka Bhuna Chicken
Cooked with spinach
£8.45
Palak Tikka Bhuna Lamb
Cooked with spinach
£9.45
Peshwari Chicken
Grilled chicken OR lamb with tandoori spices & cooked with creamy thick sauce
£8.45
Peshwari Lamb
Grilled chicken OR lamb with tandoori spices & cooked with creamy thick sauce
£9.45
Tikka Shatkora Chicken
Chicken or lamb tikka cooked with a traditional Bangladeshi citrus fruit in a fairly spicy hot sauce, highly recommended
£8.45
Tikka Shatkora Lamb
Chicken or lamb tikka cooked with a traditional Bangladeshi citrus fruit in a fairly spicy hot sauce, highly recommended
£9.45
Tikka Methi Chicken
Tikka flavoured with Indian herbs
£8.45
Tikka Methi Lamb
Tikka flavoured with Indian herbs
£9.45
Tikka Chilli Masala Chicken
Grilled chicken OR lamb tikka cooked with green chilli & hot spices
£8.45
Tikka Chilli Masala Lamb
Grilled chicken OR lamb tikka cooked with green chilli & hot spices
£9.45
Tandoori King Prawn Masala
£12.95
Saag Aloo
Dry curry of potatoes & spinach
£3.95
Saag Bhaji
Dry fresh spinach curry
£3.95
Saag Paneer
Fresh spinach with cheese
£4.45
Tarka Daal
Lentil curry fried in garlic spicy
£3.95
Mushroom Bhaji
Dry & fresh
£3.95
Mixed Dry Vegetables
Medium
£3.95
Mattar Paneer
Peas with cheese
£4.45
Mixed Vegetable Curry
Medium
£3.95
Daal Samba
Thick curry of lentils & vegetable
£3.95
Cauliflower Bhaji
Dry & fresh
£3.95
Bombay Aloo
Dry curry of potatoes
£3.95
Brinjal Bhaji
Dry with fresh aubergines
£3.95
Bhindi Bhaji
Thick curry of ladies finger
£3.95
Aloo Gobi
Cauliflower with potato
£3.95
Chilli Paneer
Cooked with fresh green chillies & herbs
£4.45
Bombay Chicken
Cooked with eggs
£7.45
Bombay Lamb
Cooked with eggs
£8.45
Ceylon Chicken
Cooked in thick sauce with coconut & spicy chilli hot
Hot
£7.45
Ceylon King Prawn
Cooked in thick sauce with coconut & spicy chilli hot
Hot
£9.95
Ceylon Lamb
Cooked in thick sauce with coconut & spicy chilli hot
Hot
£8.45
Ceylon Prawn
Cooked in thick sauce with coconut & spicy chilli hot
Hot
£9.25
Dhansak Chicken
Sweet, sour & hot with lentils
£7.45
Dhansak King Prawn
Sweet, sour & hot with lentils
£9.95
Dhansak Lamb
Sweet, sour & hot with lentils
£8.45
Dhansak Prawn
Sweet, sour & hot with lentils
£9.25
Dupiaza Chicken
Cooked with onion
£7.45
Dupiaza King Prawn
Cooked with onion
£9.95
Dupiaza Lamb
Cooked with onion
£8.45
Dupiaza Prawn
Cooked with onion
£9.25
Kashmiri Chicken
With banana
£7.45
Kashmiri King Prawn
With banana
£9.95
Kashmiri Lamb
With banana
£8.45
Kashmiri Prawn
With banana
£9.25
Jalfrezi Chicken
With onion, green peppers, tomato & green chilli
£7.45
Jalfrezi King Prawn
With onion, green peppers, tomato & green chilli
£9.95
Jalfrezi Lamb
With onion, green peppers, tomato & green chilli
£8.45
Jalfrezi Prawn
With onion, green peppers, tomato & green chilli
£9.25
Jeera Chicken
Medium hot with special spices & whole cumin seeds
Medium hot
£7.45
Jeera King Prawn
Medium hot with special spices & whole cumin seeds
Medium hot
£9.95
Jeera Lamb
Medium hot with special spices & whole cumin seeds
Medium hot
£8.45
Jeera Prawn
Medium hot with special spices & whole cumin seeds
Medium hot
£9.25
Mushroom Curry King Prawn
£9.95
Methi Chicken
With Indian herbs
Medium
£7.45
Methi King Prawn
With Indian herbs
Medium
£9.95
Methi Lamb
With Indian herbs
Medium
£8.45
Methi Prawn
With Indian herbs
Medium
£9.25
Korma King Prawn
Very mild
£9.95
Madras Chicken
Fairly hot
£6.75
Madras King Prawn
Fairly hot
£9.75
Malaya Chicken
With pineapple
£7.45
Malaya King Prawn
With pineapple
£9.95
Malaya Lamb
With pineapple
£8.45
Malaya Prawn
With pineapple
£9.25
Patia Chicken
Hot, sweet & sour in thick sauce
Hot
£7.45
Patia King Prawn
Hot, sweet & sour in thick sauce
Hot
£9.95
Patia Lamb
Hot, sweet & sour in thick sauce
Hot
£8.45
Patia Prawn
Hot, sweet & sour in thick sauce
Hot
£9.25
Rogan Josh Chicken
Medium hot with tomatoes & green peppers
Medium hot
£7.45
Rogan Josh King Prawn
Medium hot with tomatoes & green peppers
Medium hot
£9.95
Rogan Josh Lamb
Medium hot with tomatoes & green peppers
Medium hot
£8.45
Rogan Josh Prawn
Medium hot with tomatoes & green peppers
Medium hot
£9.25
Saag Chicken
Cooked with fresh spinach
£7.45
Saag King Prawn
Cooked with fresh spinach
£9.95
Saag Lamb
Cooked with fresh spinach
£8.45
Saag Prawn
Cooked with fresh spinach
£9.25
Vindaloo Chicken
Very hot
£6.95
Vindaloo King Prawn
Very hot
£9.95
Contact Us
Find Us
4 Spring Corner High Street, Feltham, TW134PA
We deliver to
TW12, TW13, TW14, TW15, TW16, TW17, TW4